Theories of Self-Disclosure
Social penetration theory states that as we get to know someone, we engage in a reciprocal process of self-disclosure that changes in breadth and depth and affects how a relationship develops. Depthrefers to how personal or sensitive the information is, and breadth refers to the range of topics discussed.Kathryn Greene, Valerian J. Derlega, and Alicia Mathews, "Self-Disclosure in Personal Relationships," in The Cambridge Handbook of Personal Relationships, eds. Anita L. Vangelisti and Daniel Perlman (Cambridge: Cambridge University Press, 2006), 412–13. You may recall Shrek's declaration that ogres are like onions in the movie Shrek. While certain circumstances can lead to a rapid increase in the depth and/or breadth of self-disclosure, the theory states that in most relationships people gradually penetrate through the layers of each other's personality like we peel the layers from an onion.
The theory also argues that people in a relationship balance needs that are sometimes in tension, which is a dialectic. Balancing a dialectic is like walking a tightrope. You have to lean to one side and eventually lean to another side to keep yourself balanced and prevent falling. The constant back and forth allows you to stay balanced, even though you may not always be even, or standing straight up. One of the key dialectics that must be negotiated is the tension between openness and closedness.Kathryn Greene, Valerian J. Derlega, and Alicia Mathews, "Self-Disclosure in Personal Relationships," inThe Cambridge Handbook of Personal Relationships, eds. Anita L. Vangelisti and Daniel Perlman (Cambridge: Cambridge University Press, 2006), 410. We want to make ourselves open to others, through self-disclosure, but we also want to maintain a sense of privacy.
We may also engage in self-disclosure for the purposes of social comparison. Social comparison theory states that we evaluate ourselves based on how we compare with others.Owen Hargie, Skilled Interpersonal Interaction: Research, Theory, and Practice (London: Routledge, 2011), 261. We may disclose information about our intellectual aptitude or athletic abilities to see how we relate to others. This type of comparison helps us decide whether we are superior or inferior to others in a particular area. Disclosures about abilities or talents can also lead to self-validation if the person to whom we disclose reacts positively. By disclosing information about our beliefs and values, we can determine if they are the same as or different from others. Last, we may disclose fantasies or thoughts to another to determine whether they are acceptable or unacceptable. We can engage in social comparison as the discloser or the receiver of disclosures, which may allow us to determine whether or not we are interested in pursuing a relationship with another person.
The final theory of self-disclosure that we will discuss is the Johari window, which is named after its creators Joseph Luft and Harrington Ingham.Joseph Luft, Of Human Interaction (Palo Alto, CA: National Press Books, 1969). The Johari window can be applied to a variety of interpersonal interactions in order to help us understand what parts of ourselves are open, hidden, blind, and unknown. To help understand the concept, think of a window with four panes. As you can see in Figure 6.2 "Johari Window", one axis of the window represents things that are known to us, and the other axis represents things that are known to others. The upper left pane contains open information that is known to us and to others. The amount of information that is openly known to others varies based on relational context. When you are with close friends, there is probably a lot of information already in the open pane, and when you are with close family, there is also probably a lot of information in the open pane. The information could differ, though, as your family might know much more about your past and your friends more about your present. Conversely, there isn't much information in the open pane when we meet someone for the first time, aside from what the other person can guess based on our nonverbal communication and appearance.
Figure 6.2 Johari Window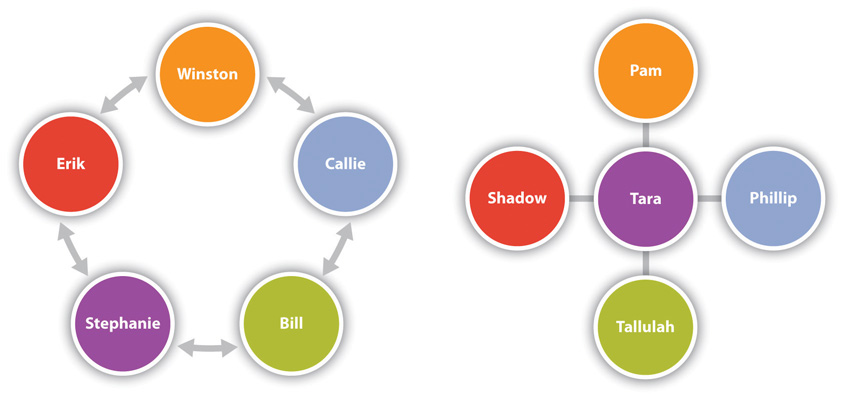 Source: Joseph Luft, _Of Human Interaction (Palo Alto, CA: National Press Books, 1969)._
The bottom left pane contains hidden information that is known to us but not to others. As we are getting to know someone, we engage in self-disclosure and move information from the "hidden" to the "open" pane. By doing this, we decrease the size of our hidden area and increase the size of our open area, which increases our shared reality. The reactions that we get from people as we open up to them help us form our self-concepts and also help determine the trajectory of the relationship. If the person reacts favorably to our disclosures and reciprocates disclosure, then the cycle of disclosure continues and a deeper relationship may be forged.
The upper right pane contains information that is known to others but not to us. For example, we may be unaware of the fact that others see us as pushy or as a leader. Looking back to self-discrepancy theory from Chapter 2 "Communication and Perception", we can see that people who have a disconnect between how they see themselves and how others see them may have more information in their blind pane. Engaging in perception checking and soliciting feedback from others can help us learn more about our blind area.
The bottom right pane represents our unknown area, as it contains information not known to ourselves or others. To become more self-aware, we must solicit feedback from others to learn more about our blind pane, but we must also explore the unknown pane. To discover the unknown, we have to get out of our comfort zones and try new things. We have to pay attention to the things that excite or scare us and investigate them more to see if we can learn something new about ourselves. By being more aware of what is contained in each of these panes and how we can learn more about each one, we can more competently engage in self-disclosure and use this process to enhance our interpersonal relationships.
"Getting Plugged In"
Self-Disclosure and Social Media
Facebook and Twitter are undoubtedly dominating the world of online social networking, and the willingness of many users to self-disclose personal information ranging from moods to religious affiliation, relationship status, and personal contact information has led to an increase in privacy concerns. Facebook and Twitter offer convenient opportunities to stay in touch with friends, family, and coworkers, but are people using them responsibly? Some argue that there are fundamental differences between today's digital natives, whose private and public selves are intertwined through these technologies, and older generations.Janet Kornblum, "Privacy? That's Old-School: Internet Generation Views Openness in a Different Way," USA Today, 1D, October 23, 2007. Even though some colleges are offering seminars on managing privacy online, we still hear stories of self-disclosure gone wrong, such as the football player from the University of Texas who was kicked off the team for posting racist comments about the president or the student who was kicked out of his private, Christian college after a picture of him dressed in drag surfaced on Facebook. However, social media experts say these cases are rare and that most students are aware of who can see what they're posting and the potential consequences.Michelle J. Nealy, "The New Rules of Engagement,"Diverse: Issues in Higher Education 26, no. 3 (2009): 13. The issue of privacy management on Facebook is affecting parent-child relationships, too, and as the website "Oh Crap. My Parents Joined Facebook." shows, the results can sometimes be embarrassing for the college student and the parent as they balance the dialectic between openness and closedness once the child has moved away.
How do you manage your privacy and self-disclosures online?
Do you think it's ethical for school officials or potential employers to make admission or hiring decisions based on what they can learn about you online? Why or why not?
Are you or would you be friends with a parent on Facebook? Why or why not? If you already are friends with a parent, did you change your posting habits or privacy settings once they joined? Why or why not?