Structure of Small Groups
Internal and external influences affect a group's structure. In terms of internal influences, member characteristics play a role in initial group formation. For instance, a person who is well informed about the group's task and/or highly motivated as a group member may emerge as a leader and set into motion internal decision-making processes, such as recruiting new members or assigning group roles, that affect the structure of a group.Donald G. Ellis and B. Aubrey Fisher, Small Group Decision Making: Communication and the Group Process, 4th ed. (New York: McGraw-Hill, 1994), 57. Different members will also gravitate toward different roles within the group and will advocate for certain procedures and courses of action over others. External factors such as group size, task, and resources also affect group structure. Some groups will have more control over these external factors through decision making than others. For example, a commission that is put together by a legislative body to look into ethical violations in athletic organizations will likely have less control over its external factors than a self-created weekly book club.
Group structure is also formed through formal and informal network connections. In terms of formal networks, groups may have clearly defined roles and responsibilities or a hierarchy that shows how members are connected. The group itself may also be a part of an organizational hierarchy that networks the group into a larger organizational structure. This type of formal network is especially important in groups that have to report to external stakeholders. These external stakeholders may influence the group's formal network, leaving the group little or no control over its structure. Conversely, groups have more control over their informal networks, which are connections among individuals within the group and among group members and people outside of the group that aren't official. For example, a group member's friend or relative may be able to secure a space to hold a fundraiser at a discounted rate, which helps the group achieve its task. Both types of networks are important because they may help facilitate information exchange within a group and extend a group's reach in order to access other resources.
Size and structure also affect communication within a group.Donald G. Ellis and B. Aubrey Fisher, Small Group Decision Making: Communication and the Group Process, 4th ed. (New York: McGraw-Hill, 1994), 66–74. In terms of size, the more people in a group, the more issues with scheduling and coordination of communication. Remember that time is an important resource in most group interactions and a resource that is usually strained. Structure can increase or decrease the flow of communication. Reachability refers to the way in which one member is or isn't connected to other group members. For example, the "Circle" group structure in Figure 13.1 "Small Group Structures" shows that each group member is connected to two other members. This can make coordination easy when only one or two people need to be brought in for a decision. In this case, Erik and Callie are very reachable by Winston, who could easily coordinate with them. However, if Winston needed to coordinate with Bill or Stephanie, he would have to wait on Erik or Callie to reach that person, which could create delays. The circle can be a good structure for groups who are passing along a task and in which each member is expected to progressively build on the others' work. A group of scholars coauthoring a research paper may work in such a manner, with each person adding to the paper and then passing it on to the next person in the circle. In this case, they can ask the previous person questions and write with the next person's area of expertise in mind. The "Wheel" group structure in Figure 13.1 "Small Group Structures"shows an alternative organization pattern. In this structure, Tara is very reachable by all members of the group. This can be a useful structure when Tara is the person with the most expertise in the task or the leader who needs to review and approve work at each step before it is passed along to other group members. But Phillip and Shadow, for example, wouldn't likely work together without Tara being involved.
Figure 13.1 Small Group Structures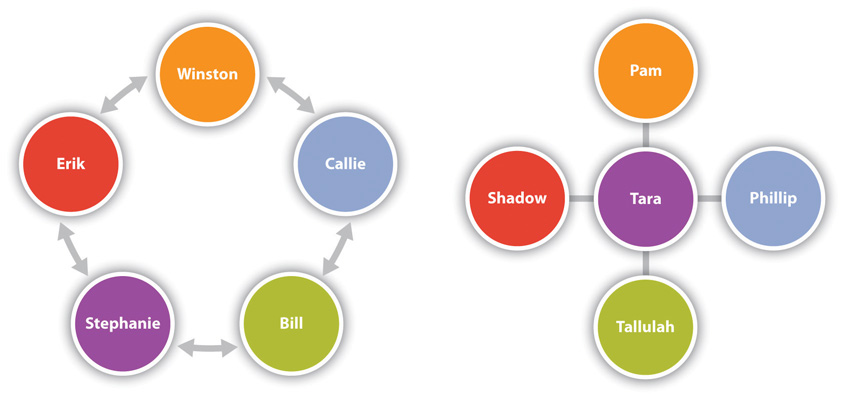 Looking at the group structures, we can make some assumptions about the communication that takes place in them. The wheel is an example of a centralized structure, while the circle is decentralized. Research has shown that centralized groups are better than decentralized groups in terms of speed and efficiency.Donald G. Ellis and B. Aubrey Fisher, Small Group Decision Making: Communication and the Group Process, 4th ed. (New York: McGraw-Hill, 1994), 68. But decentralized groups are more effective at solving complex problems. In centralized groups like the wheel, the person with the most connections, person C, is also more likely to be the leader of the group or at least have more status among group members, largely because that person has a broad perspective of what's going on in the group. The most central person can also act as a gatekeeper. Since this person has access to the most information, which is usually a sign of leadership or status, he or she could consciously decide to limit the flow of information. But in complex tasks, that person could become overwhelmed by the burden of processing and sharing information with all the other group members. The circle structure is more likely to emerge in groups where collaboration is the goal and a specific task and course of action isn't required under time constraints. While the person who initiated the group or has the most expertise in regards to the task may emerge as a leader in a decentralized group, the equal access to information lessens the hierarchy and potential for gatekeeping that is present in the more centralized groups.